Finally, the long waiting is over since the Kushal Tandon has invited a trouble for her ex Gauahar khan after posting an alleged photo depicting 'Stardust' over the pic of her sexy look!
The photograph was moving round and round on the Internet while claiming that it was a new photoshoot of Gauahar Khan with stardust and her fans applauding it on social media. Hence, the speculation over the pic turned into legal trouble for a model turned actress, when magazine itself clarified the pic and cleared out the fog while saying that this month's cover features 'Shivaay' star Ajay Devgn and not Gauhar Khan.
here's the complete statement issued by Media House!
Dear Media,
Stardust would like to clarify that the post of Gauahar Khan on Instagram with the Stardust masthead has nothing to do with us. AJAY DEVGN is gracing the cover of Stardust February issue. We have come across a few articles which state that Gauahar is on the cover, so we would like to clear the air by saying that the news is false.
Gauahar was also contacted for the same by us and unfortunately, she cannot delete the post as she thinks the media will make news of the same and again question her reconciliation with Kushal Tandon.
And Legal action will be taken against the one who has used the masthead without our permission, thus defying our Company Policy.
Regards,
Team Stardust
In a series of video shared on social media handles, Gauahar Khan has finally broken her silence. She said, "It's so unprofessional that certain media houses use my personal conversation with them as a quote. It's sad. And nowhere does the picture state that it was a cover of the said magazine. Also, they have stated that they will take legal action against the people who created it so please calm down!"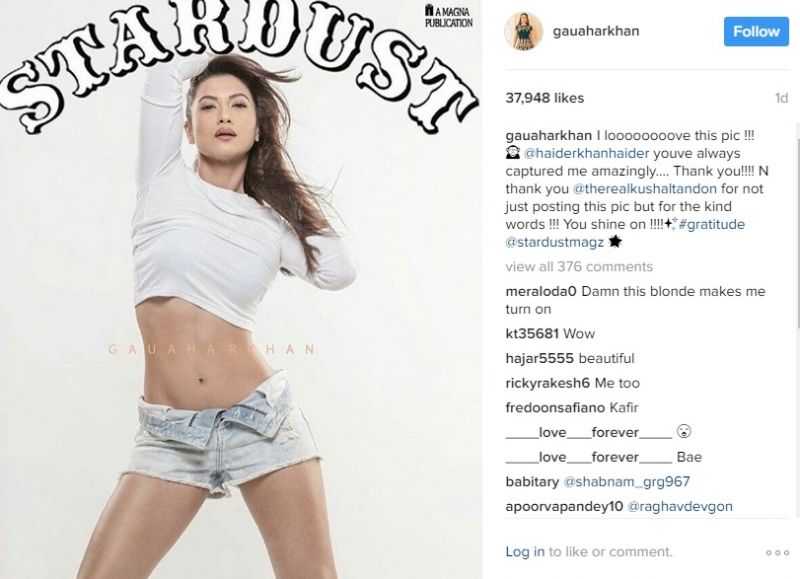 The picture clicked by photographer Haider Khan caught Kushal's attention and he couldn't stop himself from sharing his ex-girlfriend's photo. He shared the hot picture of Gauahar on his Instagram with some beautiful words. He captioned the picture as "@haiderkhanhaider saw this picture … click by my brother Haider khan ….. could not risisset my self to share this picture of this stunner …[email protected] lady with grace , panache, ooomp and style with a golden heart ……