The world of entertainment is quite demanding and we think there's no need for us to elaborate on that. The actresses on your TV screen are not only made to look a certain way but are also often under the pressure to look good just so that they can match the unrealistic standards of beauty. Here's a look at some of them who have a chunk load of makeup on their face while shooting and how drastically different they look without makeup.
Let's start the list with Bigg Boss 11 contestant and finalist Hina Khan. Hina is known for being the pretty girl on television with a perfect body and twinkling eyes. She has an intense fan following and apparently has a good shot at winning the show. But it turns out that she isnt as glamorous in real life as the camera makes her look like. Hina Khan is just like anyone of us. She is a simple looking girl!
The next girl on our list is Surbhi Jyoti. Surbhi is quite popular on television. She has done quite a few famous shows and guest appearances and people like her quite a bit for her lovely eyes and brilliant acting chops. Turns out that when Surbhi gets up in the morning, she looks something like this!
Jennifer Winget too is on our list. We swear it would have been hard for us to recognize the actress if we saw her without makeup. The Beyhadh actress is quite adorable even when she doesn't have all that cakey foundation and lipstick but she still manages to look adorable. Jennifer again is just another ordinary girl like us.
Nia Sharma who is a popular television actress has made ripples on social media several times for looking too good. Nia also has an insane social media following like several other popular actresses but it turns out that she isnt what she looks like on television or her posts on social media. The real Nia is quite different from the one you know!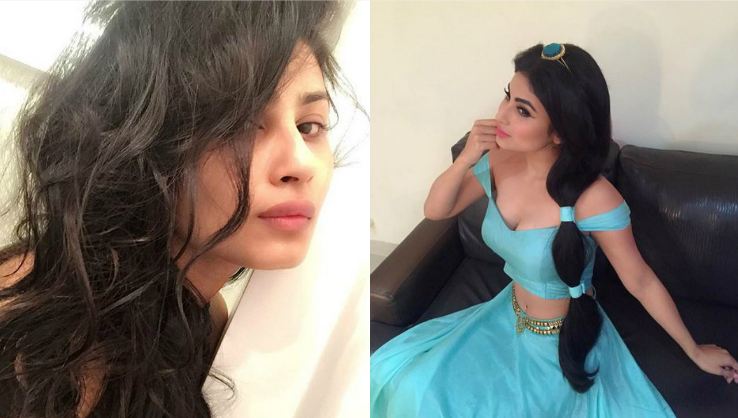 Naagin actress who will soon have her first Bollywood movie, Mouni Roy is totally a diva these days. But surprisingly, she wasn't always the prettiest one. Reports suggest that Mouni apparently got some serious plastic surgery done before she became the big hit she is today. Also, without makeup, you wont be able to recognize her easily.
We had quite a tough time while trying to recognize Divyanka Tripathi who looks nothing like what she does on television. Divyanka might be a great actress and a good looking lady but this one was a total shocker. We bet if you saw her without makeup on the streets, you wouldn't be able to recognize her.