Bigg Boss 11 contestant Priyank Sharma is hogging all the negative limelight inside the house. After getting into constant tiffs with Akash Dadlani and even being ridiculed by Salman Khan, this guy has taken things to a whole new level as he strips himself naked inside the house. You might be surprised reading this but the ex Splitsvillan actually did this in front of the female contestants including Hina Khan who was sitting right next to him. Scroll down to take a look at the photos below.
So in an unseen video footage on Voot, Priyank Sharma, Hina Khan, Luv Tyagi and the other house mates were having a conversation where Hina Khan was talking about losing her favourite toy and at the same time she took off his beanie and socks for an unknown reason. The other housemates too found an excuse to laugh at something and they made fun of his pink T shirt. This soon took things to  a whole new level as Priyank actually took his pants off and was wearing almost nothing apart from a blanket that covered him from only.
Clearly, the Bigg Boss contestants have forgotten that they are on national television and that maybe they should remember these things before taking their clothes off in front of each other. We wonder what Salman Khan has to say to this mess. He might once again give Priyank a piece of his mind in the upcoming weekend episodes.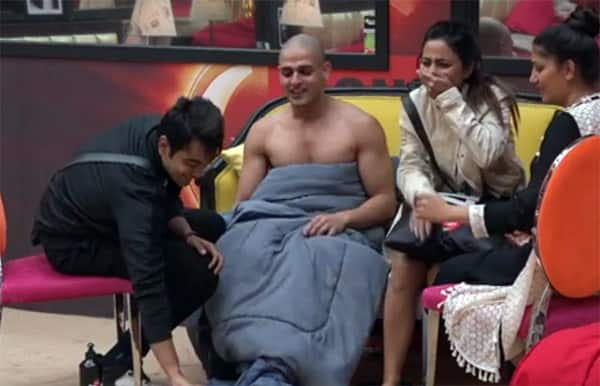 In case you have not been following the show, then let us inform you that Priyank had gone bald during the show because he had to sacrifice his hair to save his friend from being nominated. Not just him, Akash Dadlani too had gone through the same to save Puneesh's girlfriend Bandgi Kalra.